Her name is Effie Nkrumah but she is better known simply as Benumah, her pen name. She is a multifaceted artist – she is a writer, a poet, an actress and a director – and works in the Academia.
Benumah tells AfroWomenPoetry that she started consciously writing in 2011: "I needed a way to get my questions and thoughts out – it was quite accidental but I was mulling some questions that were bothering me and I ended up writing what I believe was my first poem – 'Remember the Days Big Butt?'"
She states that her artwork always reflects her origins – for example, she promotes "multi-ethnicity" instead of other nomenclatures such as "mixed" or "bi-racial". With her poetry, she aims at prompting people to discuss issues deeply. "It encourages them to think differently, to look at things from a point of view they may not have thought of or – dare I say – been privy to before. My work encourages people to change and search and ask questions of and for themselves", she explains. The power of poetry, according to Benumah, resides in its openness and accessibility: "Yes there are rules, some who write it "better" than others, but it is truly for everyone".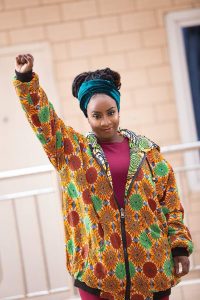 By writing poetry, Benumah's goal is "to ask questions, express thoughts, worries, observations and wishes without having to write a paper, a script or a song". The key factor is that audiences may identify with or learn from the poet's experiences and feelings.
Born in Zimbabwe to Ghanaian parents, and grown up in Sydney, Benumah currently lives in Ghana and moves between there and Australia: thus, she constantly represents both places and the both sides of her essence. "When I was working in New York I felt the responsibility of representing my Ghanaian side more acutely. Simply because ignorance still exists, especially about Ghana".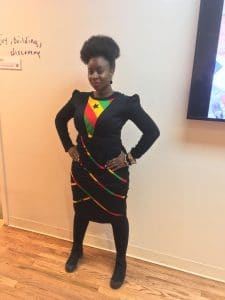 When asked about the collaboration with her fellow artists from Africa, Benumah outlines a positive picture of this community. "As an artist from Australia I know how vibrant and diverse our Afro artists are. I find that these collaborations are in fact easier when we meet on common soil – such as in Ghana, in Nigeria, etc.".
I traverse this world as though
As though I am not supposed to be here
Not as a Christian with a view of her heavenly home
No
I traverse the world as though
Permission must be granted
Permission must be granted to sit in that spot
Swim in that pool
Of ignorance
That paved open walkways for us to traverse on foot through the structures of structure.
Keep your eyes down
Apologise, always apologise.
Say sorry! Say sorry!
Move to the right. Squeeze through that spot.
Stop.
I must be permitted
To live and walk and traverse
What is it to realize that you pose the question that is not asked?
Why are you here? How are you here? Who gave you…
To explain when you do not need to?
I wanted to say it was your fault
I want to say it is your fault
I will say it is your fault
That I do not grant myself the permission
And spend my time watching and waiting and flipping and clicking images
and words and voice that grant the self permission.
The permission to traverse without permission.
I traverse this world as though I am not allowed to be here
Until I can say I am.

(I traverse the world, Benumah ©2017)
Link to the Italian translation