Ruddy Morfaw is a Cameroonian jurist, writer and spoken-word poet. For over a decade, she has worked with institutions in the area of human rights, peace, development and corporate litigation. She has been a researcher and human rights activist with the Cameroon National Commission on Human Rights and Freedoms (NCHRF), Southwest Region, and she currently works as a research consultant at the African Commission on Human and Peoples' Rights.
As a jurist, she is interested in inclusive and accountable governance in public and corporate management systems.
As an artist, she expresses herself through poetry, debate, playwright, graphics and other contemporary forms of arts.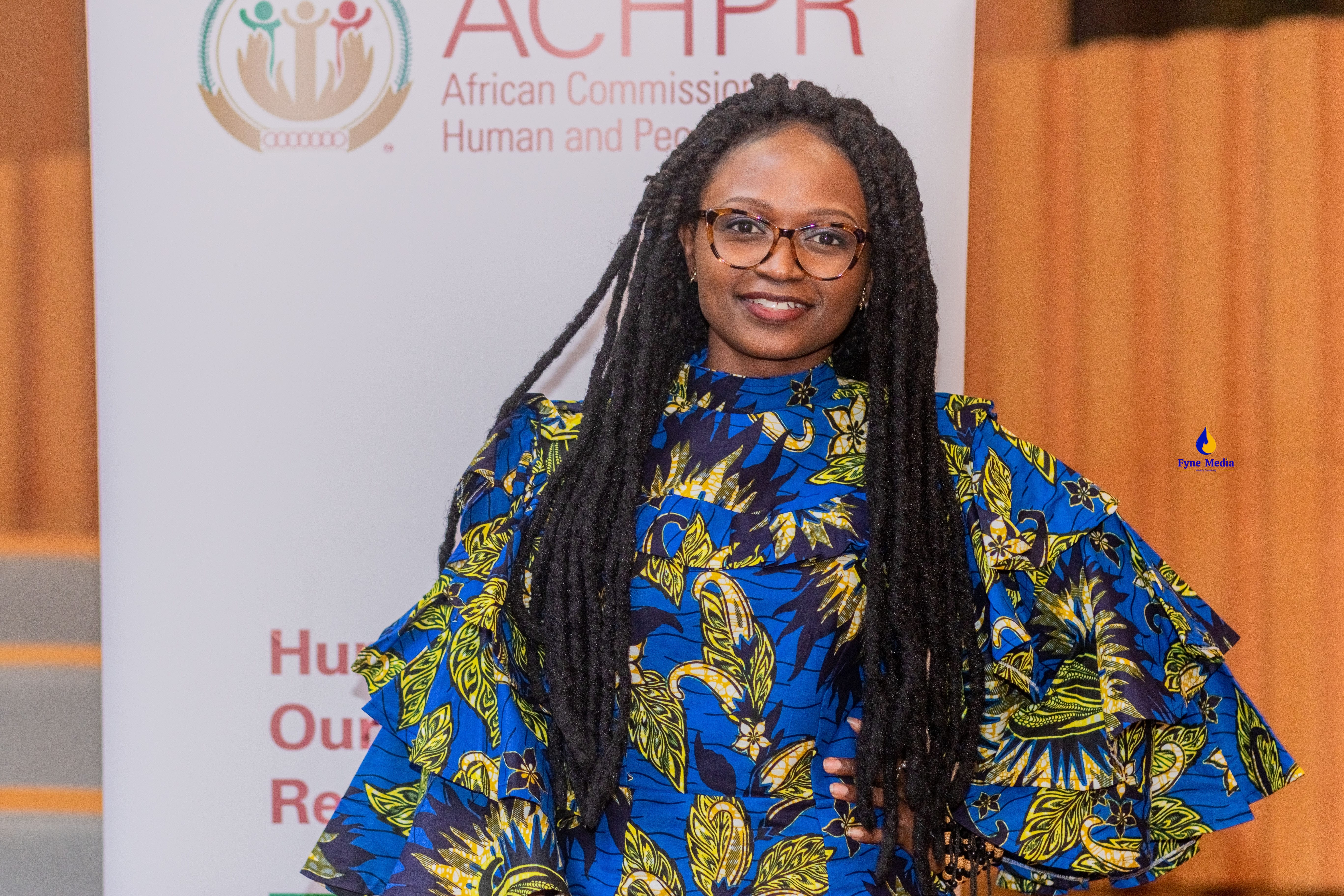 You are a jurist: what urged you to study Law? Have you always been interested in this field?
Growing up, I think I had interest in the broad area of communication, and I'd regularly mimic the art of news broadcasting in the comfort of any private room. My only concern however was my shyness and timidity. Getting to the University, my mum encouraged me to do Law, as a platform that will open me up to many other opportunities. I saw reason with her and went ahead.
Over time I have mostly stayed in Law, but constantly embraced my other interests and artistic talents. And indeed, my legal background has remained a platform for inspiration and intellectual reasonings.
You are passionate about politics and human rights: does human rights advocacy contrast or is part of political activism?
I think human rights advocacy is in a sense political activism itself; because what constitute the policies which are being lobbied for and eventually enforced (or not), are the rights which are on the other hand being advocated for, with the main difference being the position from which the person stands – as a politician or simply an activist.
How are laws and human rights related to art? Can poetry speak more efficiently than other languages about these issues?
Art is always influenced by the socio-political environment of the artist; and I love literary art, and specifically poetry because it always finds a way to talk about anything and in any creative way possible. I think poetry sometimes does show up to be a more efficient voice on sensitive issues such as law, policy and human rights because of its ability to speak fervently in direct words or with subtlety, and in beautiful but thought-provoking satire.
This way, it gets to reach a wider audience, especially those who would otherwise not want to be concerned with the politics of their time, but which however impacts their everyday life.
With regard to women empowerment, are women in your country socially and politically active? And what about ordinary women in their everyday life?
Although men still occupy much of the space, there is a growing interest and engagement in political and more especially social activism, among women in my country. With the recent Anglophone Crisis in the last six years and running, the socio-political climate has been tense in the English-speaking regions, creating more caution among ordinary women, on issues of advocacy towards the government.
You were invited to perform your poem "Across Borders" at the 75th ordinary meeting of the African Commission on Human and Peoples' Rights. It's incredible to see poetry enter such an institutional place and talk about migration, passports and trade with a clarity and power that so many political speeches lack. What inspired you to write a poem about these topics and how were you invited to perform at the assembly?
I like writing political poems because I feel it's an efficient way to self-express liberally and profoundly and draw attention to issues which may have been said too often and too plainly that they have become cliché and ignored – which is common with political questions.
I have written and performed a number of poems, which several people have admired. One of these was: "A Forward to the Statesman" which I performed on invitation to the 11th High Level Dialogue on Democracy Governance and Human Rights, organised by the African Union's African Governance Architecture (AU-AGA) in Benin in 2022. The poem focused on unconstitutional change of government in Africa.
Following this performance, the African Commission on Human and Peoples' Rights in Gambia where I work, requested that I perform a piece at its 76th Ordinary Session. My focus in Across Borders was the African Continental Free Trade Area (AfCFTA) Agreement which was inspired by the AU's 2023 theme of year – 'Accelerating the AfCFTA implementation', as well as the panel discussions which were anticipated to take place during that Session.
My knowledge on the issues around migration, business and human rights, as well as personal experiences of travel constraints within Africa, were also an easy inspiration in preparing such a piece. A few colleagues gave me their feedback, and everyone was indeed very impressed with the final product.
In conclusion of the interview we publish the poem The Man We Married on the theme of abusive and toxic relationships:
They say good girls go bad 'cause bad guys don't treat them right

A good woman is as scarce as a dog's tears

And I remember Marriage was never meant to be a fight but a period to garnish our lives

I hate that I once loved but now I detest

But please don't judge me for the things I did and did not do

No diary ever told a perfect story

I can't remember a pinch of how it felt like to be happy

To know that in the millions that cared, there's one who'd even breathe for you

I can't remember why I made any decisions I made, whether for fear, love or ignorance

Or why I sacrificed my life for slavery before an altar of compassion

For every second I knew I was right, even before the sceptics and critics

Nothing could shake the foundation of certainty I had built, whether in faith or doubt

Or so I thought

Not even the stakes and trials that loomed in my mind stood as an obstacle to my grounded decisions

Whatever they were on.

This one's for those ladies who felt they'll lay down their lives for a man they loved and married

Living the dream and believing fairy tales were the realities of the future

Sacrificing your breath, health, passions and plans

For birth, assistance and greatness you hoped to achieve in the warmth of a man who promised to kill even the King for you

Being the holiest of you, because at least that's what the Good Book taught you to

Yet the crew of in-laws with your own Man in lead, rips out your heart and patience in contempt and asks you to remain a loyal lady

This one's for you

Who trusted your hunches, ignored dirty talk and fought for the man you believed was a saint

Who gave it all up to be fat and wasted pushing up your Man's dreams like a stick to a bent tree

Struggling to raise kids who might never even grow to finally take care of you

This one's for you

who gave up all this and more

to receive drunk late nights, be beaten up daily like filth, cheated on with outside brats,

neglected and reminded of how much you've meant less

And then tossed to the streets like trash

This one's for you

who felt you must put him first in everything, believing he'll do same

Yet pouring out all this energy to live the 'We' dream and yet get the response "woman, you can't change my life"

Yes, this one's for you

when you decide all this must stop and you turn on a new page,

walk away from those sacrifices cos they mean nothing now;

remind yourself of how much you can stand alone cos you deserve to be self-made

when others feel you have been worse than a maid even to yourself

This one's for you

when the crowd judges and despises your scars, decisions and fury

when they have not the slightest idea what you've been through

This one's for

My beautiful ladies to rise again after a broken marriage.
Link to the Italian translation