Alith Cyer Mayar is a writer, poem and activist. She was born in 1997 in Khartoum, Sudan, and grew up in different places as Uganda and South Sudan. She attendend the Sudan Academy for Medical and Technological Studies training as a nurse. During that time, she volunteered for different hospitals and clinics.
In the meanwhile her passion for Literature and History had grown along the way, and her love for reading and writing brought her to write her own compositions and also to teach English and Literature to children, high school and university students.
She is the author of two published books, The Cry of the South Sudanese Children and The Battle within me which was launched in the first week of December 2019. She also is the founder of the Writers Writing Fellowship that runs online workshops with South Sudanese youth on story writing and countering intercommunal prejudice, stereotyping and hatred.
A peace builder and civil rights activitst, she declared: "Writing is so powerful it can change the type of human the reader becomes".

When and how your interest in literature and poetry did start?
I grew up an introvert who kept to herself, I spoke out and expressed myself through writing. When I was at primary school, I started writing things around me and the things I saw everyday. No one encouraged me to write but my everyday life experiences – or maybe the books I read did. There was no book in particular since I started writing but later on Things Fall Apart by Chinua Achebe and Gifted Hands by Ben Carson have been great reads for me, not forgetting that I grow up everyday in writing. I am currently getting to worship the writings of Chimamanda Ngozi Adichie.
What role did writing play in your life at an early stage (i.e when you were a child) as opposed to now that you are deeply aware of the reality around you?
At my early stage of life, I kept pain and happiness to myself and these always overwhelmed me and almost interfered with my mental health; so I found healing and companionship in writing. When I write, I feel like I am speaking with someone, I am expressing myself and someone is listening. When I am hurt, down, scared or fearful, I write down my insecurities and strengths on paper.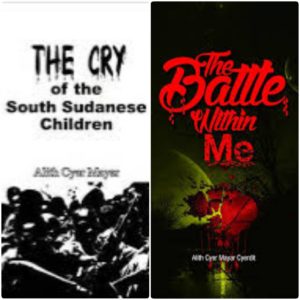 Can you tell us about your published books, The Cry of the South Sudanese Children and The Battle Within Me? What themes do they deal with?
The Cry of the South Sudanese Children is a book that expresses the hopes, dreams and cries of children for the country they want to live in; the themes I deal with in the book are War, Peace and Development. A home full of National Security and Peaceful home.
The Battle Within Me is a collection of poems on love, conflicts and betrayals which is inspired by the population divided by regionalism and tribalism.

Did growing up in a war-torn country as Sudan and then South Sudan urge you to act and become an activist?
I was inspired by the need to see change and voice out stories of war, conflicts in search of peace and education. It's not easy to be an activist in an environment where women are looked in a sexual way and where the environment thinks activism is rebellious. I think it should be a loyal rebellion where I can still respect and love the country but don't like the way some things are going.

In a time where activism seems to take place essentially online, what in your opinion can – on the one hand – urge young people to take to the streets and make their voices heard and – on the other hand – to be politically and socially active in a peaceful way?
I use my online platform to advocate for education and peace building. In a country like South Sudan going to the streets will take time because there's need for so much civic education; this area of civic education is neglected because there's no so much investment here that will inform them about their rights as citizens, this will inform their voices for a reform.
You are the founder of the Writers Writing Fellowship, a youth-led writing collective. What sort of activities does the collective carry on?
We do storytelling for healing. We have literacy programs like education beyond classrooms. The programs are more of peace education and storytelling and we conduct them in hubs and online especially on Zoom. We use storytelling and education for peace building. Storytelling gives young people the chance to express themselves to heal and be heard; when young people have these honest conversations through stories, they will know their similarities and the fact that despite their tribes they are the same people going through the same problems and they are not their enemies.
Women empowerment is a fundamental theme nowadays discussed all around the world. What can you tell us about the condition of women in South Sudan?
Women in South Sudan are very resilient because despite the conflicts they went through. Of course all the results of conflicts have affected South Sudanese women, but they continue to do businesses, continue to build on their talents, they continue to demand equal opportunities in all sectors. Bed sheet making develops their talent of craft making.
Is there a process of women emancipation and empowerment going on in your country?
My country has the 35% affirmative action for women representation in all sectors especially in the government. There are many groups like South Sudan Women Coalition For Peace and Development and Eve launching activities and awareness campaigns to promote gender equality and women empowerment.

Can you share with us your plans for the future?
I am currently applying for a writing residency to be able to work on the two books I am developing. After publication, I hope to have a book tour around the region to introduce my publications beyond South Sudan.
We are also working on widening the outreach of the Writers Writing Fellowship and making sure civic education and powerful stories come through us.
In conclusion of our interview with Alith Cyer Mayar, we publish a brief and powerful poem from the collection The Battle Within Me.
Men-struation

You don't know the history of my pain.

I am Junub

A woman in end-less men-struation

Buying daily your pads to c-over and protect my skirt from stains

I continue to bleed

afr-aid to speak of my periods

But now I say, "I am in pain, help me."

Silent guns shoot though my womb

23, 32, 10

The pad seller continues to pray for

income

I continue to men-struate

Loose so much blood

Staining.
Link to the Italian version