Roberta Turkson's career in poetry started in 2011, as a way to drive the pain off her chest, after failing to fulfil the fondest dream of having her own traditional Ghanaian restaurant in Nashville. "With lots of time on my hands and pain in my heart, I took to writing which turned out to be poetry".
Roberta, born in Ghana and living in Tennessee for the last 30 years, is the proud author of "Talking Robbish", a brief collection of poems in which she expresses her personal experiences, her feelings and her views. As the book mostly covers the weirdness of love and relationships with "doses of good and some naughty humor", it might happen that some verses shock or offend the readers. "When it turns out that way, it simply is the brutal truth or the raw reality of whatever it is that I happen to be addressing in a particular piece. 'Talking Robbish' might just be telling one to loosen up and jump into a puddle like a child. It is also about pain and life's hardships, fear and the all liberating power of love, hope and perseverance".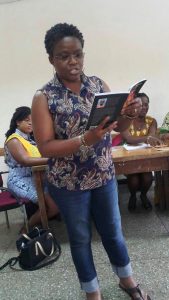 According to Roberta, poetry has the power to lead her readers "to go beyond a cursory look into everyday occurrences and catch what they usually miss or overlook".
I see poetry as a tool to lay bare what is truth in every form it is concealed in. The main strength for me is its force of compulsion that tells a fact exactly for what it is.
Representing the African values – such as the African sense of community and support, the welcoming and warm inclusiveness – while wholly embracing her host country (the U.S.), is of utmost importance for the poet. She has recently linked up with some Ghanaian writers, with whom she is working on a project in Jamestown (Accra), aimed at holding reading- and creative-writing camps for kids. "We encourage each other's love for writing by sharing our work on our platform to enjoy and critique".
Roberta has managed to get back her West-African cousine restaurant. In her point of view, being a poet is much like being a restaurateur: "My readers and diners must enjoy what I put before them. To that end, I make sure that they come away seeing the generosity and cordiality around a Ghanaian meal and see the sheer purity in the laughter of a child I write about, or the ugliness about a plastic bottle bobbing alongside an elegant yacht resting serenely on a gently rolling blue green sea".
Y'all Hear Me?

I know I will die on a cold winter morning.
Winter withers me so it's only fair that
I believe my well worn weathered body
Will wilt on such a day.
Wrap me well, warmly.
It's the least you can do for a tropical wench
Who died in a witheringly cold world.

I will require my flask with me,
My pen of course, and yes, my fufu stick.
I will come back to haunt you
If you forget my hoe and my cane.
If my teeth have fallen out,
Put them under my head.
I'll still need them to laugh wildly
Even in my forever sleep.

Don't forget to write on my tombstone,
'She died laughing'.
People who visit my tomb
Must know that, even though
Laughter is the best medicine,
This old wench still died laughing.

(Roberta Turkson)
Link to the Italian translation